Aldershot Steel Gate
At Doors4Security, we are committed to providing top-notch security solutions. Following the successful launch of our steel security gate product range, we were thrilled to be approached by a prominent property management company in Aldershot.
They were grappling with the challenge of securing a set of stairs on their property to prevent unauthorized access to the roof level. The building, which houses multiple occupants, had been dealing with unwanted visitors who engaged in anti-social behaviour or used the area for sleeping rough, which was obviously unacceptable as it made the building unsafe for everyone.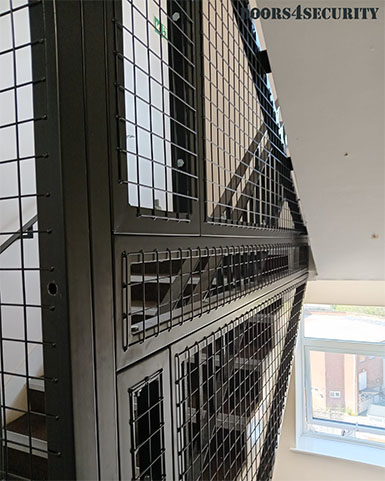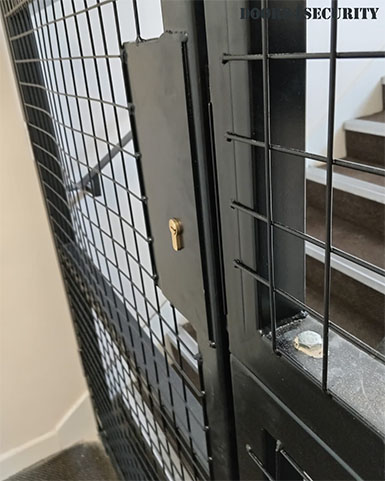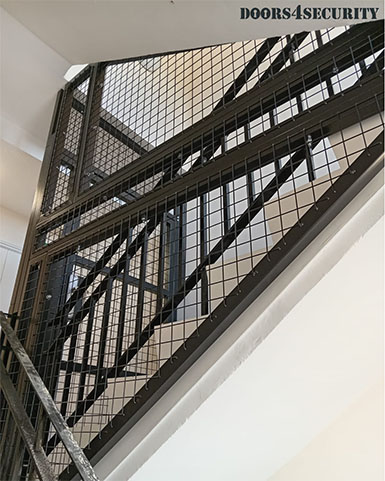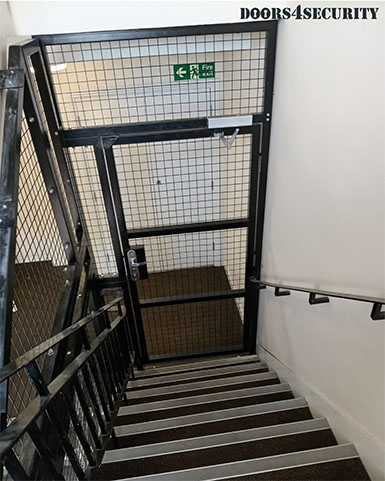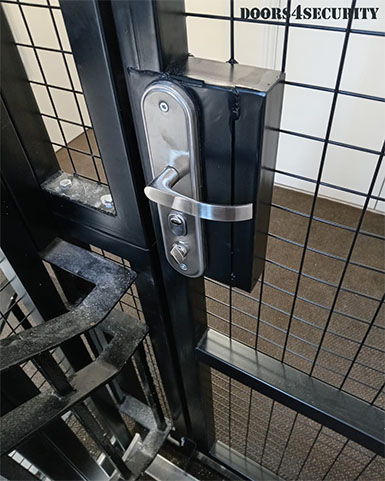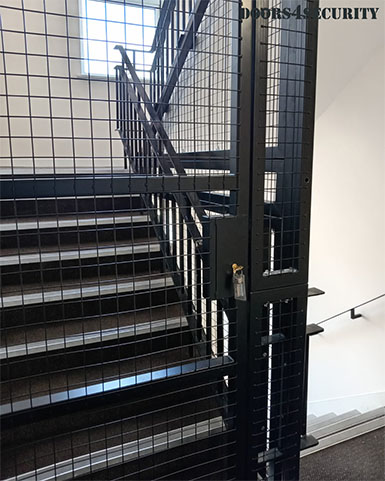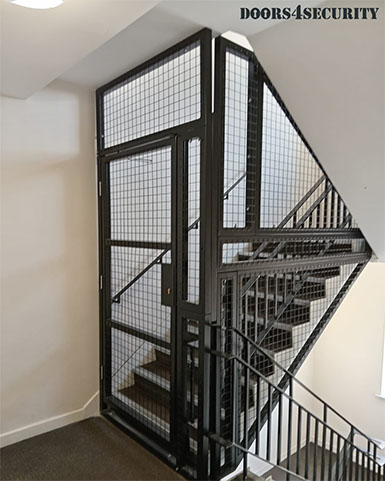 Understanding the Problem
Our team conducted an initial site visit to assess the situation and devise a tailored solution. The objective was twofold: to grant roof access exclusively to authorized individuals while creating an effective deterrent against unauthorized entry.
Offering A Tailored Security Solution
Drawing upon our expertise, we designed a robust system that effectively boxed off the staircase, preventing unauthorized access while ensuring the handrail remained accessible and complied with all building regulations. Utilizing 50 x 50mm box section steel and 2-inch galvanized steel grills, we crafted various-sized panels easily bolted together on-site, streamlining transportation and installation.
Enhanced Security with Style
We crafted a custom door/gate using the same premium materials to complete the solution. Equipped with our multi-point locking system, euro-profiled cylinder, and stainless-steel lever handles. The resulting door provided an additional layer of security to the entire system. All components were powder-coated in RAL 9005 black for a sleek and uniform appearance. As you can see from the pictures, it looks fantastic.
Swift Installation and Satisfied Client
Our meticulous planning and efficient execution allowed the Doors4Security team to complete the installation in just one day. The client was elated with the outcome, as our bespoke security solution effectively eradicated their previous security issues and pulled them off while not ruining the building's aesthetic appeal. Since implementing our tailored steel security gate, the property has remained problem-free, granting peace of mind to all occupants.
Your Security is Our Priority
At Doors4Security, we specialize in fabricating customizable steel gates to meet diverse security needs. Whether you require a similar bespoke solution or have specific design requirements, we can deliver the ideal security gate for your property.
If you have bespoke specifications or dimensions, we encourage you to contact us. We'll be delighted to provide you with a personalized quote and assist in crafting the perfect security solution for your property. Put your security in trusted hands with Doors4Security.