We Buy Any Car portable office POD's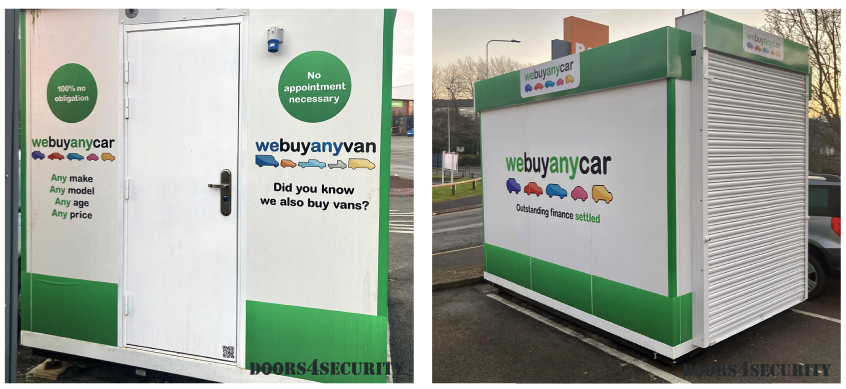 We Buy Any Car
was set up in 2006 and since its incorporation it has gone onto purchase over 3 million cars from happy customers all over the country. They have over 500 sites in the UK and the majority of them are portal offices that have the ability to be set up quickly and efficiently in any location. You will normally find them in car parks of big retail outlets such as Asda or B&Q to make the process of selling/valuing your car simple and convenient. The concept behind the portable office is to take up as little space as possible and to be simple and easy to move/transport.
Doors4security Ltd was approached by the company who build these portable offices for We Buy Any Car to supply a steel security door which was simple to fit and would work within their system. After looking over the specification and sizes with the design team they decided that our
heavy-duty steel security door
was the perfect fit and size for the application.
Our expandable door frame meant the door could be easily fitted into their frame profile and with the extra strength in our frame it meant that the door would offer more rigidity.
Our heavy duty doors
come with a multi-point locking system as standard. The level of security offered a perfect solution to help prevent an intruder gaining access into the unit.

We Buy Any Car are fantastic at marketing their services. With their branding so universally recognised, it was crucial the door would have the ability to fit in with their company colour scheme. Although our doors come pre powder coated in a stock grey colour we are able to powder coat them to any colour of the customer's choosing. We Buy Any Car specify a white cabin and then they use vinyl stickers and covering to brand the unit with their company logos and slogans. We were able to powder coat our door white to cater for their needs and fit with the rest of the cabin/office.

We Buy Any Car may buy any car but they will only buy a Doors4security Ltd steel door for their portable offices! So far, we have supplied doors for over 170 sites and the goal is that they upgrade all of their offices over the next few years!
Above are some images from the Macclesfield Site of We Buy Any Car.